Meet Dr. Ye
Dr. Ye graduated from Sun Yat-sen University of Medical Sciences in China. He came to the US in 1992. Richmond, Virginia was his first stop, where he spent five years and earned his PhD. degree in Microbiology and Immunology from the Medical College of Virginia. The following three years he was in New York doing Pathology residency training from Albert Einstein College of Medicine and SUNY Stony Brook.
The next two years he worked as an NIH Research Fellow at Yale University studying gastrointestinal pathophysiology under the mentorship of Dr. Henry Binder, a world renowned gastroenterologist. He finished Internal Medicine residency training in 2006 at Saint Mary's Hospital in Waterbury, Connecticut, affiliated with Yale University School of Medicine. He is certified by American Board of Internal Medicine. He then spent two more years at West Virginia University for further subspecialty fellowship training in digestive diseases.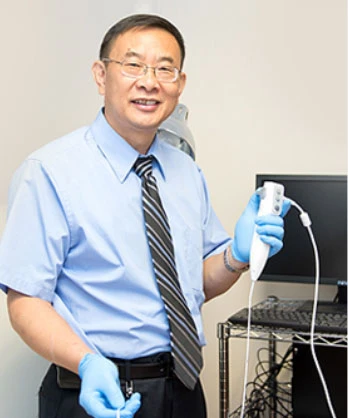 From 2009 to May 2013, Dr. Ye has practiced internal medicine and digestive diseases in Winchester, Tennessee, providing medical care to the residents of Franklin, Coffee and Grundy counties in the beautiful foothills of Cumberland Mountains of southern Tennessee. He was also a busy attending physician at Southern Tennessee Medical Center. He has truly enjoyed working as a practicing physician after so many years of training. Nothing is more rewarding to him than to hear from his patients that their chronic disabling condition over many years has been resolved or under better control with his treatment, whether it was refractory diarrhea or abdominal pain or poorly controlled diabetes.
He describes himself as a problem-solving guy. "You have to solve their problems and get them the real solid help they need. That's what they come here for." Extensive training in internal medicine, pathology, digestive diseases and scientific research combined has given him the unique advantage of problem solving skills with thorough understanding of the pathophysiology of various diseases. To see that many years of training has translated into real tangible help to his patients has turned out to be his greatest career satisfaction. He likes the challenge of dealing with difficult and complicated medical problems, and he gets energized with tackling them.
When patients came to see Dr. Ye, they were impressed with the scope and depth of his knowledge. They were also surprised to find a physician who was incredibly easy to talk to, who was "very good at explaining what he has found wrong with you" and who "explains everything to you so you can understand". It was not uncommon to hear cheerful laughter coming out of the patient exam room from time to time. Friendly Southern folks have enjoyed chatting with him, shared with him their life stories and exchanged some good laughter together. Somehow he always seems to have a way of making people feel good about themselves. Many patients have cited such common characteristics from their experience with Dr. Ye, and that is, "He listens." "He listens to you." "He takes time to listen." "He really cares about his patients." Dr. Ye believes a good physician is someone who knows his limit, in his own word, "knows how deep or shallow the water is." As a primary care physician, he will not hesitate to send his patients to a specialist if he believes that is what they need. He does his best to work with his patients, explaining to them whatever efforts they can make together; he is also honest with them when things are in God's hand.
In the summer of 2013, Dr. Ye relocated to Fulton County, Georgia to start a new medical practice – North Atlanta Medical & Digestive Care. He is an affiliate medical staff with North Fulton Hospital. Dr. Ye and his wife have three children. In his spare time, he enjoys basketball, soccer, swimming and bicycling. Soccer has been his passion of more than 30 years. Now a more cautious player in his middle age, he once said to his wife about what he has learned from playing and watching soccer all these years, "You never give up. And you should never give up, because before the game is over, until the very last second, you still have a chance to turn things around, and you should always try your best till the very end." In life and at work, it is also what he believes and does.